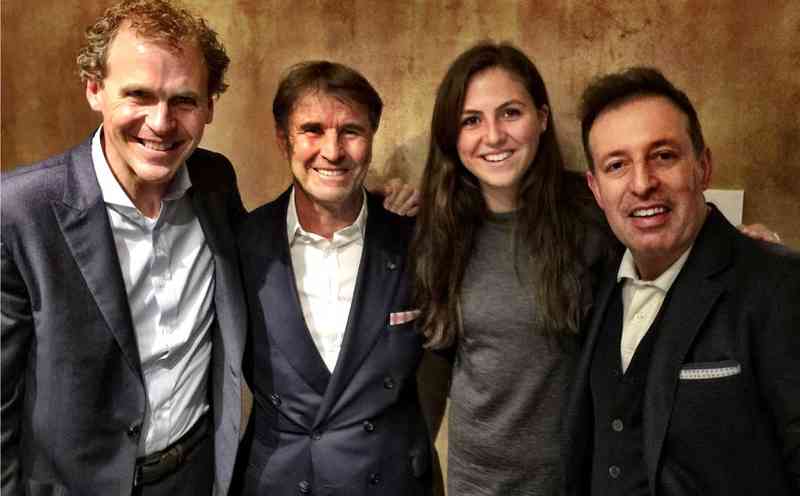 "The first time we visited Solomeo, Brunello Cucinelli took us on a tour to see what he had created in the small town in Italy. He then had us to a private dinner where he served pasta with fresh truffles. My dad was so excited about the truffles that Brunello wrapped up two, the size of baseballs, for him to bring back on the plane. This spoke to his passion, generosity, and values. We had an immediate personal connection and that was the beginning of our business relationship and our friendship." —Bob Mitchell
DESIGNER/FRIEND SINCE 1999
---
SHOP ALL PRODUCTS FROM BRUNELLO CUCINELLI
FILTER
Who is Brunello Cucinelli?
Italian fashion designer and Prince of Solomeo, Brunello Cucinelli, has spent untold sums of time and money revitalizing the town of Solomeo while creating an Italian luxury fashion brand in the heart of the city. The fashion brand's foundation is based on the ideology that fostering a beautiful culture is just as important as churning out beautiful clothes. Brunello Cucinelli is known for his understated and deeply ethical approach to business building, which is rooted in his own philosophy he calls "humanist capitalism."
The Brunello Cucinelli collection began with cashmere sweaters made in bright colors. And despite eventually being referred to as the "King of Cashmere" and being known for those bright colors, Brunello Cucinelli was considered to be a very humble man. His first company made its debut in 1978 with the equivalent of about $500 and was called Brunello Cucinelli SpA. From humble beginnings to a revenue of 414 million euros in 2015, the Brunello Cucinelli designer collection, and the business as a whole, was founded upon principles that are derived from his dedication to reading classic works in ethics, theology and philosophy.
Where is Brunello Cucinelli From?
Brunello Cucinelli grew up in a low-income family near the city of Perugia, Italy, with no electricity until the age of 15, but he recalls fond memories of a rural and serene life. After attending engineering school, but not finishing, his family moved from the outskirts of Perugia to the inner city where Cucinelli's father, Umberto, as an uneducated farmer, began working in a cement factory. Brunello Cucinelli witnessed first hand the humiliation and criticisms his father faced on a day-to-day basis due to his lack of education and vocation. These memories had a tremendous impact on his lifelong mission to bring dignity to manual labor and treat workers with graciousness and respect.
"They didn't beat him, but still they treated him like a slave," Brunello Cucinelli once shared. "My father was humiliated, he didn't make much money at all. His work didn't do anything to make life more beautiful. He worked in a very tough environment."
In 1977, with no fashion design training whatsoever, just a bank loan and a close friend, Brunello Cucinelli bought a small amount of cashmere and had it made into half a dozen sweaters that were dyed bright colors. He chose to emulate what Luciano Benetton was doing with Shetland wool (another Italian designer in the area whose business would later come to be known as the Benetton Group) and took his wares to northern Italy, where a local retailer placed an order for 53 pieces. Eventually, Brunello Cucinelli bought out his friend and expanded his business to Germany. By 2006, a collection which was born from brightly colored cashmere sweaters, the Brunello Cucinelli collection found its tone. A look that would be known across the world as a fashion house that was unafraid of color.
How Brunello Cucinelli Found Success
Through an endeavor that many people considered an arts and crafts hobby, a 24-year-old Brunello Cucinelli was able to make his way out of a childhood spent in poverty and create one of the most successful Italian fashion brands today. And at 59 years old, the brand went public in the Milan Bourse's only IPO in 2012, where he became a billionaire in the process.
The Brunello Cucinelli designer collection now sells menswear, womenswear, and a multitude of accessories in a variety of different countries like Switzerland, Belgium, the United States, France, Germany, Austria, Canada, China and Japan.
Brunello Cucinelli's business is headquartered in a renovated 14th-century castle on a hill in Umbria, Italy, also known as the "green heart." For reference, this region sits in the center of the boot-shape of Italy. To Cucinelli, and Italians in general, culture is important.
At the head office, the entire staff eats lunch in the company cantina, family-style, with assigned seating. The lunch is complete with several courses, wine and breathtaking views of the Umbrian hills, a meal enjoyed in true Italian fashion.
Cucinelli sees these group lunches the company provides as a physical and spiritual form of nourishment, which is part of his ideology and dedication to treating others with love and respect. Not only does Brunello Cucinelli's business pay wages 20 percent higher than the fashion industry average, the company also donates 20 percent of all of its profits to charitable foundations. With about 1,300 employees, Cucinelli believes in fair economics and will not allow after-hour emails. He believes that being away from work is an important part of being better at work as a whole, taking into account that the group lunches the company provides are a physical and spiritual form of nourishment.
Where is The Brunello Cucinelli Designer Collection Made
Cucinelli has two Solomeo factories that are only large enough to make his sample collections where production mainly focuses on exercising quality control, versus the bulk of Brunello Cucinelli collection, which is farmed out to local contractors. About 80 percent of the Brunello Cucinelli collection is made in Umbria, Italy in the head office at Brunello Cucinelli's historic 14th-century castle. In what's known as somewhat of a "cottage industry practice," some production is done independently in the homes of people in the surrounding area as well.
With his passion and dedication for the people that worked for him and his love for Solomeo, Cucinelli revitalized the town of Solomeo by restoring churches and town squares, paving roads, building parks and launching a theater as his business grew.
What You Don't Know About Brunello Cucinelli
Brunello Cucinelli married his hometown sweetheart, Federica, and in what is essentially Umbrian chauvinism, he dedicated much of his time and efforts to rebuilding his sweetheart's hometown. Federica was born in that small Italian village just two hours north of Rome while Cucinelli was born in Castel Rigone, which is just as equally small and ancient. Brunello and Federica have two beautiful daughters, Camila and Carolina. His dedication to the love of his life, his family and humanity instilled a sense of responsibility within him to revitalize Solomeo.
A philosopher by its very definition, he would rather be reading texts of Marcus Aurelius than most anything else. Brunello Cucinelli has distilled an idiosyncratic business philosophy that draws on Renaissance humanism, Senecan stoicism, and the theories of Theodore Levitt. Cucinelli is a twentieth-century marketing scholar who argues that the purpose of companies is to keep and serve their customers, not only to create a profit for the company itself.
Brunello Cucinelli's first philosophical inspiration was Kant, whom he discovered when he was 21 years old, right before he started his company. He was never interested in daily life; he was more attracted and intrigued by the thoughts and philosophies of the great thinkers of the world.
By the time Cucinelli had moved to the city with his family at the early age of 15 he knew what he wanted to do. He wanted to creatively express himself, while simultaneously being something of a guardian angel for human dignity and basic human rights.
Today, Brunello Cucinelli follows a self-imposed curriculum of study ranging from Socrates to St. Francis of Assisi.
From Brunello Cucinelli's perspective, no matter what you are doing, it should be done wisely and with respect to the economic dignity of every single human being. Because of his family history and the pain and suffering he saw his father endure, Cucinelli will never buy anything that he is sure harmed someone or something in the process of production.
How to Pronounce Brunello Cucinelli
Broo-nell-oh Coo-chi-nell-ee
Awards and Honors
For his commitment to his work, employees, contemporary capitalism philosophy and a general reverence for human dignity as a whole, Brunello Cucinelli has earned both the Leonardo Prize and the Global Economy Prize, as well as the Fashion Star Honoree Award in 2014.
Further, Brunello Cucinelli has also earned an honorary degree in philosophy and human relationship ethics from the University of Perugia, the Cavaliere del Lavoro, the Italia Order of Merit for Labour in 2010, the Premio Guido Carli in 2011 and the Pitti Immagine Uomo prize.
Celebrities Who Wear the Brunello Cucinelli Collection
Brunello Cucinelli and his practices are known throughout not only the fashion industry but the world. A wide range of celebrities wear his luxurious designs on the red carpet and in their daily lives.
Ryan Reynolds wore a dark grey suit to a London screening of his blockbuster film, Deadpool 2. Daniel Kaluuya from the movie, Get Out, sported a tan coat with black dress pants at the 2018 Oscars and Dev Patel sported a Brunello Cucinelli suit to the Screen Actors Guild Awards. Brunello Cucinelli offers more casual fashion apparel, too. Jessica Alba and Sandra Bullock have both been spotted wearing his stylish Italian sneakers.
Other celebrities who wear the Brunello Cucinelli Collection include Bradley Cooper, Jennifer Lopez, Jessica Biel, Jordana Brewster, Olivia Palermo, Daniel Craig, Jon Hamm, Jude Law, Jennifer Garner, Ben Affleck, Robert De Niro, Chris Pine, Blake Lively, Leonardo DiCaprio, Allison Williams, Demi Moore, Armie Hammer and Matthew McConaughey.