STYLE FILE
Getting to Know Spinelli Kilcollin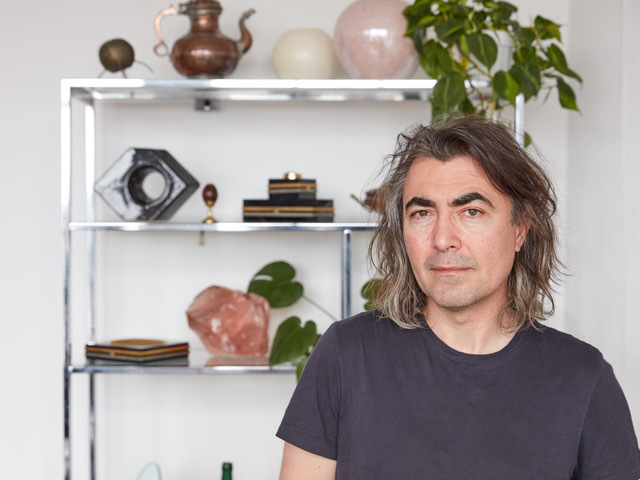 Since Spinelli Kilcollin launched in 2010, the brand has gained a cult following and has been seen on celebrities and influencers around the globe. It is known for its signature connected ring, a true classic with a modern twist. The collection has grown and now includes earrings and necklaces as well as a wedding collection. We recently sat down with one half of the design duo, L.A. based Yves Spinelli to learn a little more about what inspires him and where he's headed next.
On a typical day, what are you doing at....
7:00 am:
I've been awake for a while, usually on my second cup of coffee, and ready to tackle my inbox and plan my day.
1:00 pm
I take a lunch break regularly at noon, so by 1:00 I'm back to work and drinking coffee #4 or #5. But this is hopefully the last coffee of my day.
8:00 pm
If I'm not traveling, I'm relaxing and playing records in my living room after a busy day.
What did you do before you designed jewelry?
I worked at Maxfield for twelve years as a sales associate and eventual store manager.
Where do you find inspiration?
Music inspires me to create. I also like to get out into the world and interact with people. I want our work to fit into people's lives, and it's important and interesting for me to understand what's going on in the world.
What has been the most gratifying moment in your career?
I feel like every day is a gift. I wake up each morning happy and excited to build a business that I created with my wife. It's really a dream.
Who is your dream client?
I love to meet clients who tell me that they never take off our jewelry. They wear it every day, sometimes even to bed. Seeing our
work become part of someone's life is profound.
What is your most prized possession?
A Gibson J180 Everly Brothers acoustic guitar that my father bought me when I was 15. It's a rare guitar because it was only reissued for a few years in the late 80s, but I love it because it's like my teenage diary. It represents my young dreams to be a songwriter, and I can look at certain nicks in the wood and relive the moment they happened on a gig or a home recording.
What do you never leave home without?
My Aquarius ring. It was the first connected ring that we designed, and the version I wear today is one I re-made in gold. The original silver one that launched the brand is hidden away.
What's on your shopping list for Spring?
I'm an avid record collector, and I'm about to spend a week in Tokyo for work. The rarest records in the world seem to have made their way to Japan. I've been compiling my wish list and saving up for a shopping spree.
Shop Spinelli Kilcollin Jewelry
---
MORE FROM OUR STYLE EDITOR