STYLE FILE
Genevieve Lau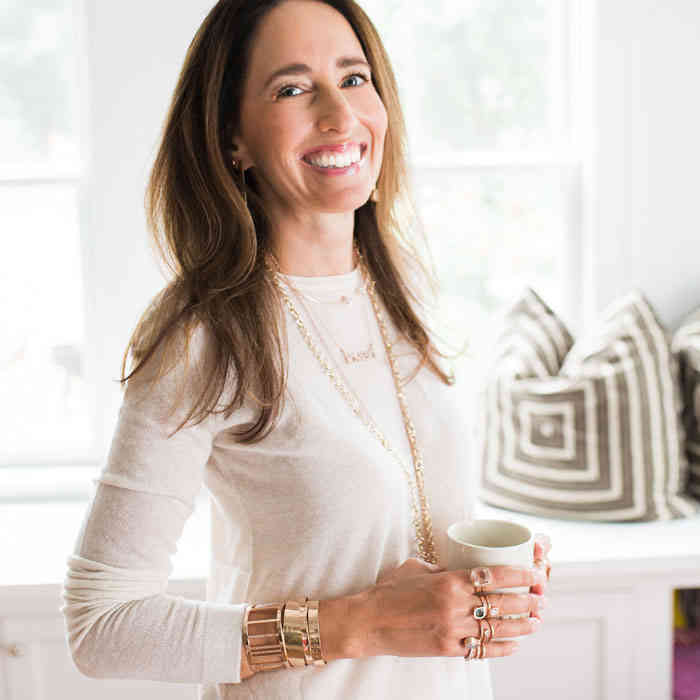 In honor of Breast Cancer Awareness month, we sat down with Jennifer Lau, designer of Genevieve Lau to find out what inspires her and how she is giving back to women undergoing cancer treatment.
On a typical day what are you doing at ….
7:00 am
Getting my 5 kids out the door for school. They all leave around 7 and then I'm out the door right after them to go for a walk or run. I start all my mornings with a 3-5 mile run or walk - it sets my mood for the day!
1:00 pm
Usually having lunch while working. Typically I make myself a big salad or eggs (obsessed with both) and catch up on emails. For the last few months, I've been taking online courses from Stanford in Genetics and Genomics. Middle of the day is when I spend a few hours on them. Just passed my second required course last night so now on to electives to earn my certificate in Genetics and Genomics!
8:00 pm
3-4 days a week at 8, I'm out with my husband, Steve, for dinner and drinks. We've been together for about 20 years and for sure one of secrets to happiness is spending time together out several days a week. Our kids at this point are doing homework so we're not missing out on anything at home. We also realized early on that it's better for them and for us to have them completely in charge of their homework and studying and not get involved.
Where do you find inspiration?
Wow, pretty much everywhere. Lots of times on my walks or runs where my imagination can just run wild. I don't run with music so really use this time as my creative time. I'm totally inspired by women feeling confident and amazing in their every day look. My jewelry is meant to be worn all day, every day, dressed up or down and make women feel like their best self!
What women do you admire for their personal style?
All Parisian women! They make casual look chic. Sarah Jessica Parker who takes risks with her personal style. Marlien Rentmeester, she truly has the best eye for fashion at all levels-highs and lows, dressed up and down. Gwyneth Paltrow, I love the way her style has evolved since she started Goop and became less involved in Hollywood. She always looks confident.
What is your most prized possession?
Our family photos for sure. Tells our story over the years. Everyone that enters our house is mesmerized by all of them (they're up all over the house). Also, an old Rolex I bought with my first Wall St. bonus and a navy blue Birkin that my husband got me for our 10th anniversary.
What do you never leave home without?
Loads of jewels and a book. People that know me, know that I always am layered in rings, cuffs, and necklaces. That's because I never take them off. I sleep in them, exercise in them and shower in them. I always have a book with me. Never know when I can sneak a few minutes in. I'm an obsessive reader!
Favorite destination to travel to?
Wow, such a tough one. We love to travel and really try to go to different places each time we travel, but some of our favorite places are San Sebastian in Spain, Costa Brava in Spain, Mukul in Nicaragua, Kasbah Tamadot (Richard Branson's hotel in near Marrakech), Four Seasons Hualalai on the big island and anywhere in the Caribbean.
What defines your personal style?
Lots of white, gold, and destroyed jeans. In the summer, I basically only wear white. Loads of white dresses (love anything eyelet or lace), Isabel Marant short skirts, white t-shirts, destroyed jeans, loads of jewels and interesting shoes. I guess a way to describe my style would be casual chic or dressed up casual. I try to make comfortable, casual clothes look dressed up and always put together.
Tell us a little about the LOVED project and what it means to you?
Our LOVED movement is my favorite part of being a designer. I'm totally inspired to create more pieces that give back and make women feel beautiful. To date, we've donated over 500 LOVED necklaces. For every LOVED piece we sell, we donate one to a woman with cancer. There's nothing better than getting a card, email, phone call or being tagged in a photo from a woman who received a LOVED necklace. Everyone that wears one and doesn't take it off (including me) says it just makes them feel so good and gives them positive energy and good vibes.
---
MORE FROM OUR STYLE EDITOR